Umbrella is the easiest and fastest cloud-delivered service to provision secure and compliant guest Wi-Fi everywhere. Our Umbrella Secure Hotspot (or Guest WiFi for MSPs) package delivers protection which enforces network security and content filtering at the DNS layer. The difference is that it only covers Wi-Fi hotspots on your network, and we charge by hotspot rather than by user.
Anti-Malware
Protection against threats
Predictive intelligence
Worldwide coverage
No added latency
Proven reliability
Web filtering
Acceptable rules of use or compliance
Category-based filtering
Blacklists and whitelists
Block page bypass
Whitelist only
Infrastructure
Global Network
Off-network coverage
Granular enforcement
Worldwide coverage
Partnerships for faster internet
Cloud-managed
More visibility
Data identification
Cloud services for your organisation
Proactive identification when a service is compromised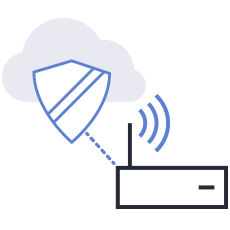 A painless deployment, even for thousands of locations
Whether you want to secure a few hotspots or tens of thousands, you simply point DNS traffic to our global network. There's just one IP address to remember thanks to our Anycast Routing technology. Provisioning Umbrella as simple as a checkbox. Assign policies in one place and gain visibility everywhere.
A transparent experience, even for blazing fast Internet
Umbrella uses DNS resolvers, rather than Web proxies, in the cloud—leveraging Internet's existing infrastructure. So enterprise-grade Web filtering and network security is enforced without any additional latency, hardware, or software. Even better, using an elastic and scalable cloud service means you don't have to deal with complex sizing guides. And even if you triple your Internet pipe's bandwidth, our cost stays the same.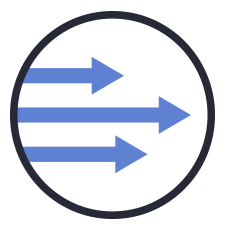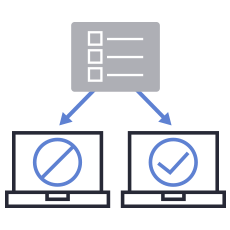 Flexible acceptable use policies
Over 60 filtering categories and custom allow or block lists ensure that guests only view appropriate content that is consistent with your brand. Creating policies using the cloud-based Umbrella dashboard could not be easier.
Guests are protected from threats
Umbrella prevents malware, command & control callbacks, and phishing from compromising guests' devices or stealing guests' identities over any port, protocol, or app. And real-time Internet activity is aggregated across all Wi-Fi hotspots in one place.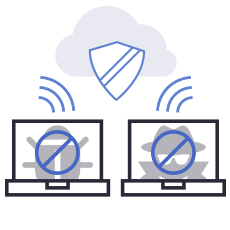 Learn
Intelligence to uncover current and emerging threats.

See
Visibility for activity across all devices and ports, anywhere.

Block
Stop phishing, malware, and ransomware earlier.
Secure your networks with Web-Filtering and Anti-Malware